Future Champions
Miscellaneous Show Candids
New Champion Bigshot's Mayhem "Able" Finished his Championship on 09/02/2019 on Labor Day. He finsihed with 4 majors in very limited showing. Able is being being handled by Rachel Garde who is an amazing handler. Able is Libby's full brother from a repeat breeding. He is now working towards his Grand Championship.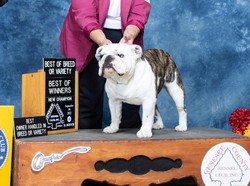 CH Bigshot's Badge of Romance is coowned with Mark and Sue Nilson. Badger completed his championship at the age of 15 months. He achieved his first Major at the Detroit Specialty show at just 6 months of age. The future looks bright for this young boy!. He is sired by Bigshot's Mayhem (Able).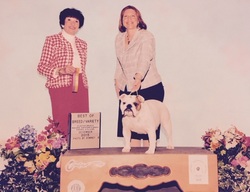 5.25.2009 Bugsy took Winners Bitch and Best of Opposite at the West Michigan Apple Blossom Cluster Show!!! ......

(What a Memorial Day to Remember)
4.10.2010 Bugsy took Reserve Winners Bitch at the WMBC Specialty to a 5 Pt Major!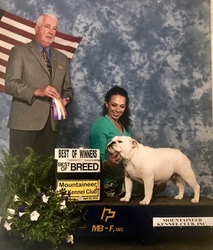 Envy - GCH Bigshot and Redpine Eye Candy @ 22 months
July 17th, 2015 BOS under Judge Elizabeth Muthers 2pts
July 18th, 2015 BOS under Judge Mr. Buxton 2pts
July 19th, 2015 BOS under Judge Mrs. Trotter 1 pt.
July 27th, 2015 BOS under Judge Eugene Blake 3 point MAJOR
August 1st, 2015 BOW and BOS under Judge Gloria Gerringer 1 pt.
August 29th, 2015 BOS under Judge Gary Doerge 2 pts
September 19th, 2015 BOS under Judge Joe Walton 2pts
October 9th, 2015 BOW under Breeder Judge Robert Church 3 Point MAJOR for NEW CHAMPION!
Introducing New CH Bigshot Ethelred Lady Liberty. "Libby" finished in Perry, Ga with a 4 point Major. Sired by CH Exact Classic American Outlaw out of Bigshot Kiss My Ash. Owned by Ellen Rich, Christine Shedore, and Lesleigh Redavid DVM. " Libby" finished her Championship at 11 months of age with limited showing from the puppy classes. She won a Puppy Award of Achievement on 4/27/2018 by taking BOB over Specials. She will be selectively specialed. The future is looking bright for this rising star!